When does an object stop being something merely materialistic and start being something special?
SABINNA Season 005 is an emotional journey into memories, drawing inspiration from objects from the past and the emotional connection to their owners and others around them.
When does an object stop becoming something merely materialistic and become something special?
These days, people have more and they throw away more. Objects have lost the value and importance that they used to have. However, there are some objects that to the individual will never lose their value and can stay with us for decades.
Designer Sabinna Rachimova aims to create garments that people feel connected to, that have importance and worth. Fast fashion is not for the SABINNA girl.
While researching for the collection, Sabinna came across a study from the University of Waterloo about 'connection to things'. The study noted that at a young age, children tend to be more proud when it comes to possessions and while everyone has a need to 'own' things, it is children who believe that if they find it first, it's theirs – "finders keepers".
Sabinna looked into items she has had since childhood, that she has kept with her throughout her life, even when moving house or even abroad. These include a letter from her Grandma, a necklace and a ring. Using these as referenced she thought about the lessons and traditional Russian techniques her Grandma passed down to her and brought these into the design of the new collection.
Artworks from Mar Goman, Celia Pym and Oliver Jeffers also inspire the collection's colour palette and general mood. Reading the book 'Love Objects – emotion, design and material culture' also helped Sabinna to delve more into this connection with objects. She used the perspective of the authors Anna Moran and Sorcha O'Brien to analyse others thoughts on this connection as well as her own.
Key pieces in the collation include knee-length dresses with gathers and pleats in block colours; blood red and navy, as well as denim and in double-sided woven floral design. SABINNA's signature knitwear is seen in the form of sweaters with layered neck detailing and in a new interpretation of crotchet flowers: a mix of lace and merino wool. The collection also includes T-shirts, designed with slogans written in reverse – something personal that only you can read when looking in a mirror.
The invitation also follows this idea with wording spelt backwards and a reflective panel so it can only be read in the reflection.
Sabinna has been working hard to challenge creative aspects while improving her commercial knowledge of the industry. With her two events on Saturday 16th September, she invites people to collect memories by being part of her own. The collection event is a catwalk-presentation hybrid with live models while the evening event is a shopping experience and after-party with guests able to purchased clothing from the new collection they saw earlier that day.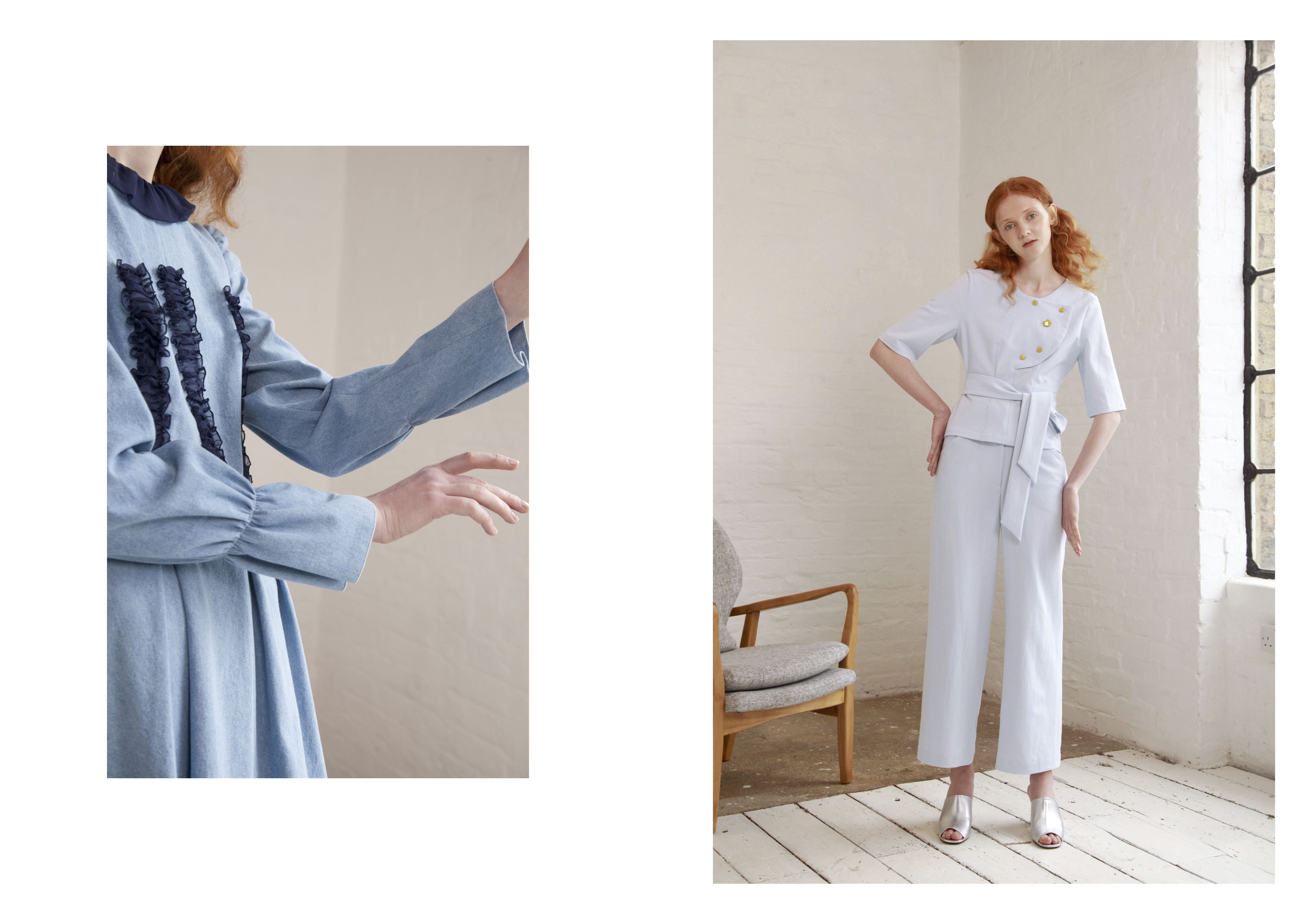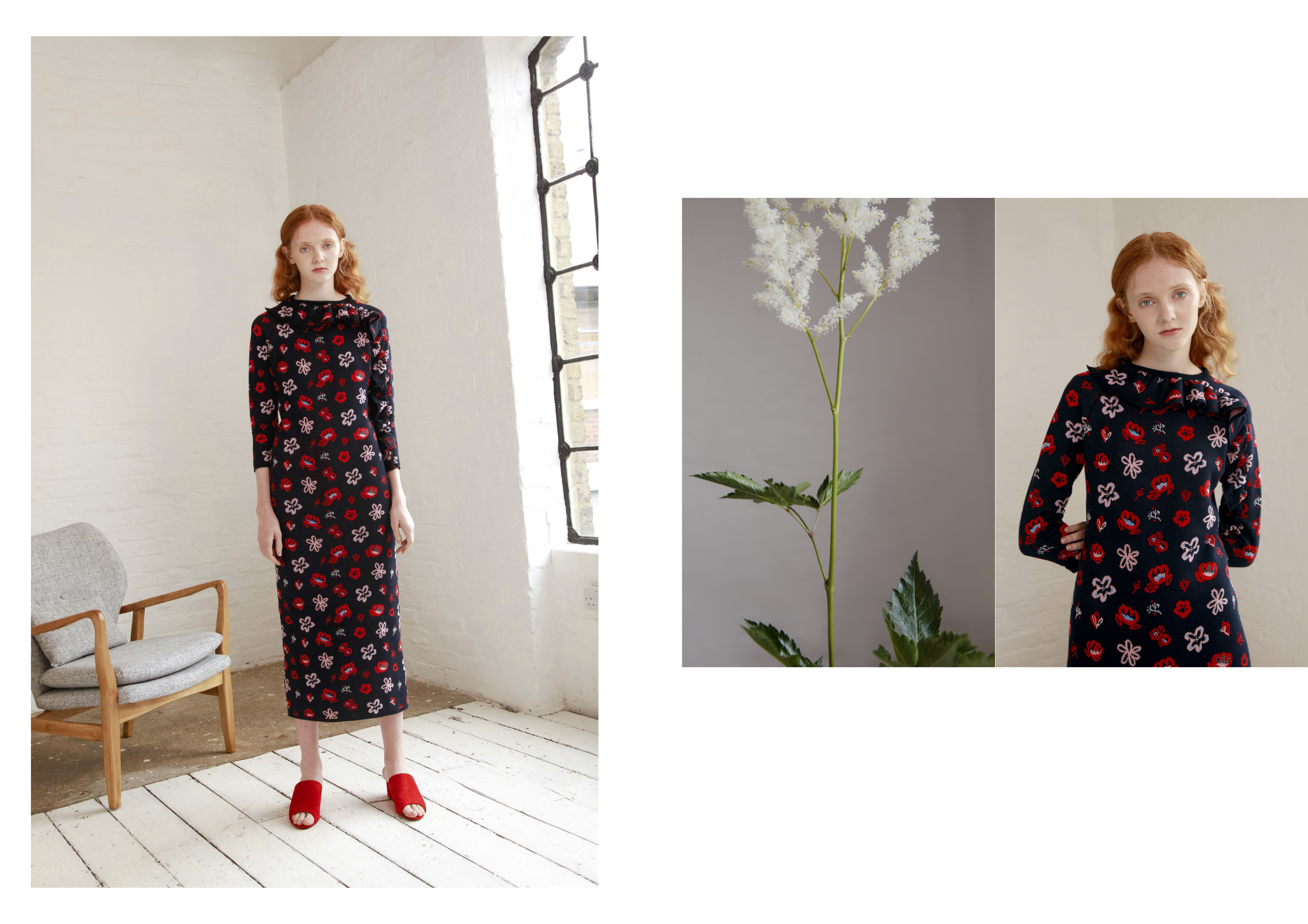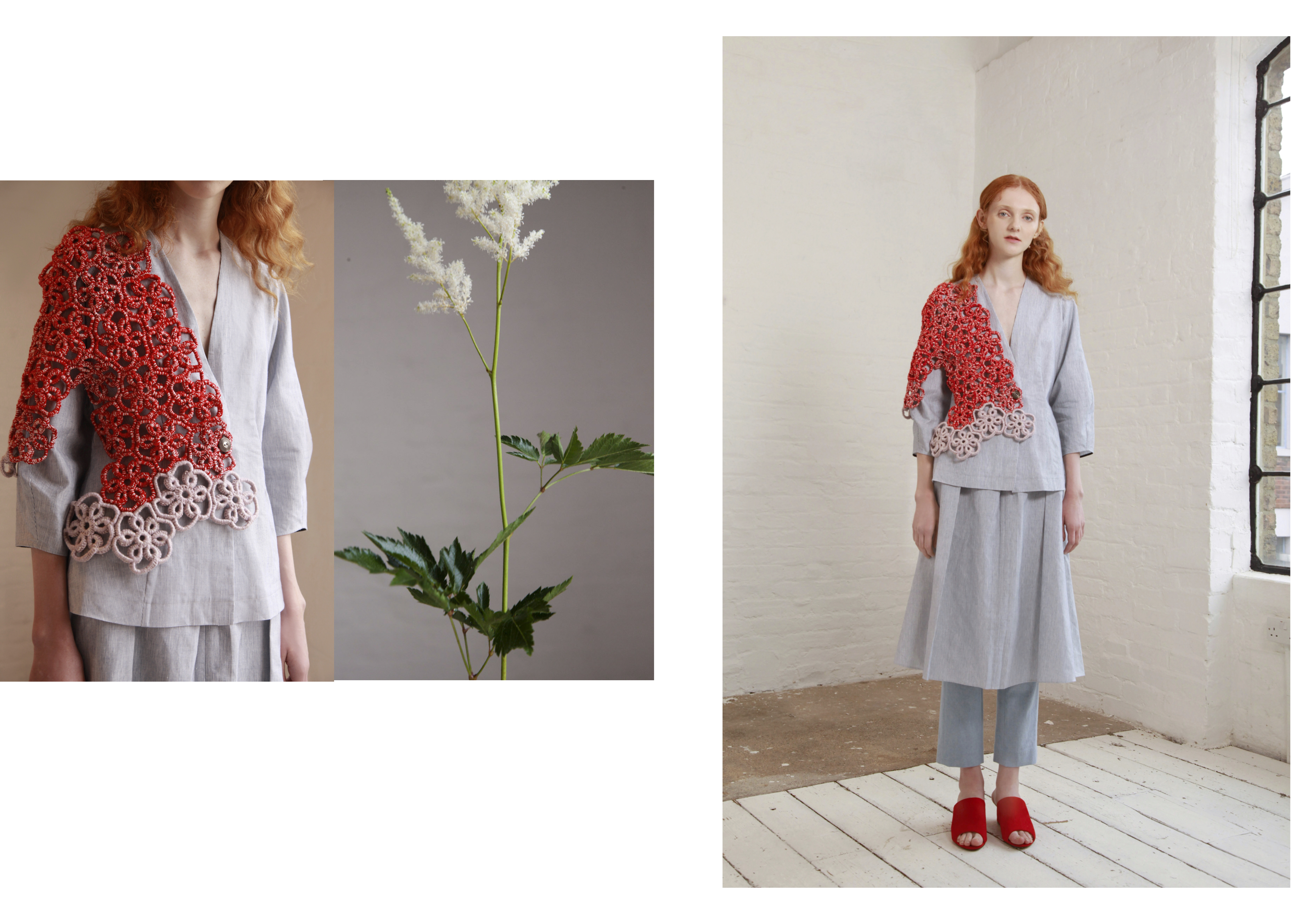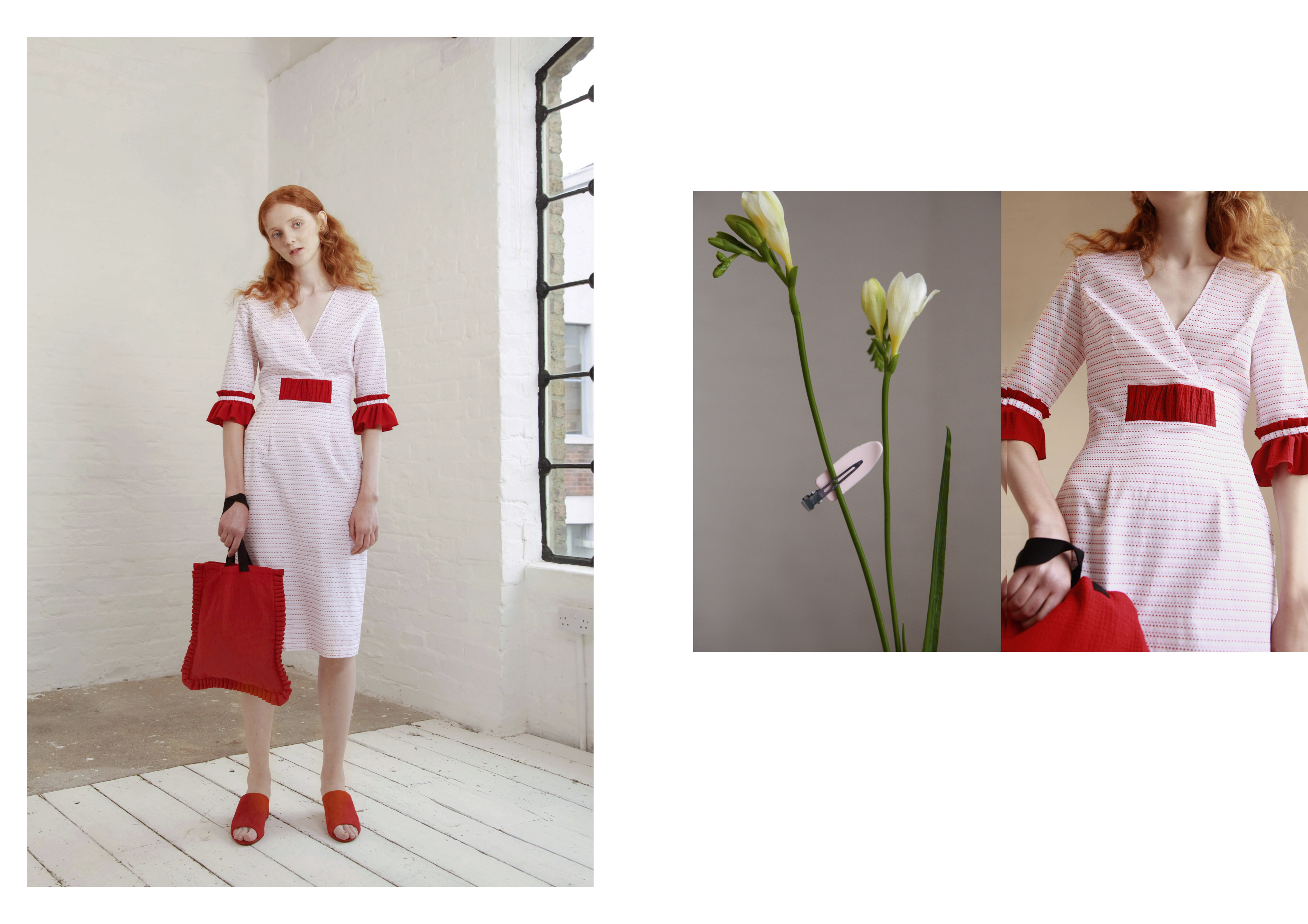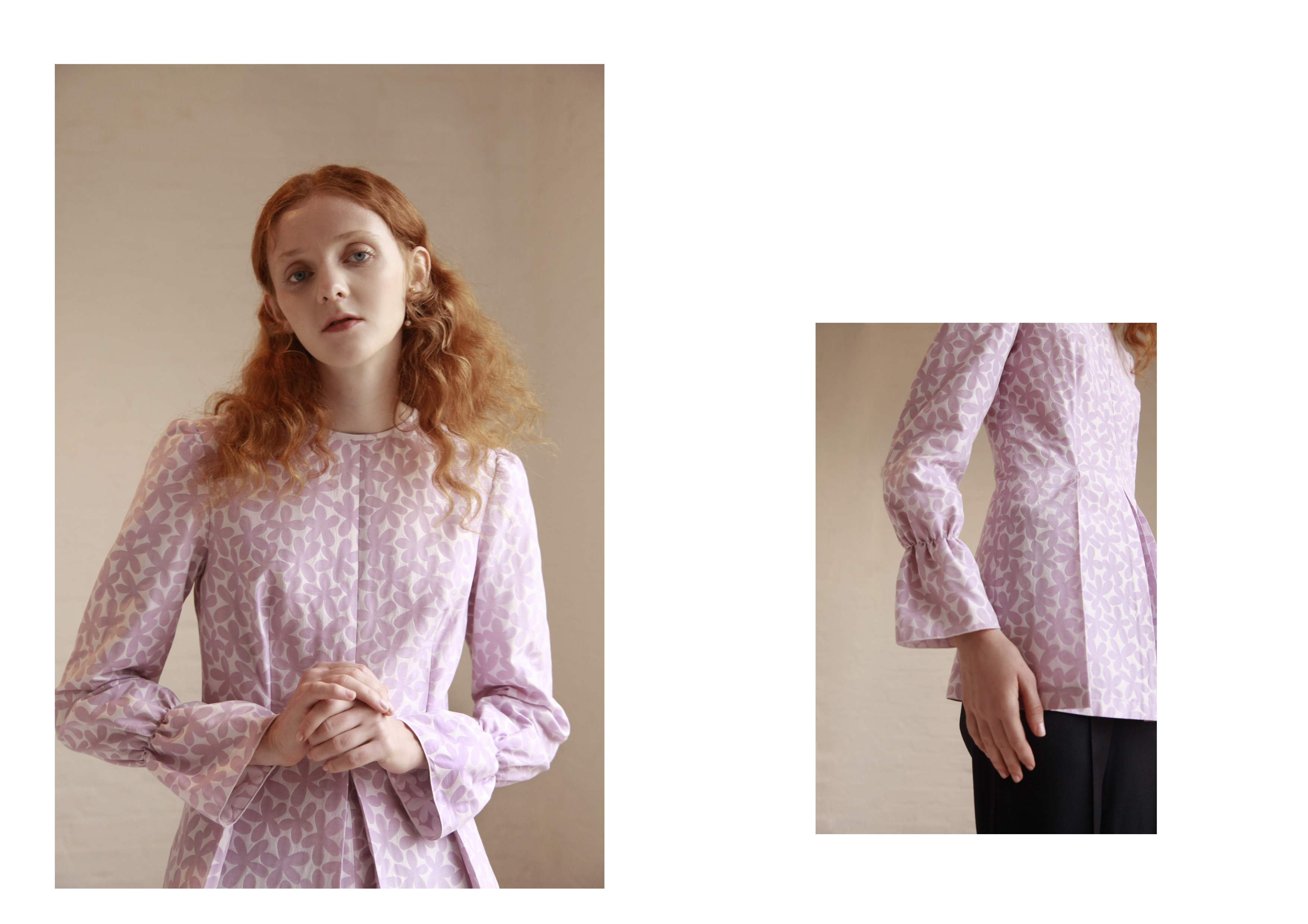 behind the scenes 
It is common to tell a story using words or pictures, but when it comes to creating intangible connections and emotional attachment through materials and practises that fashion has as its hand, the process of storytelling becomes more complex.
For Sabinna Rachimova, garments have always been more than pieces of fabric stitched together, which is why, when designing, she always refers to her personal stories that resonate with girls and women around the world. Her personal family archive and heritage passed on from her Grandmother is always an important part of the research concept. Connecting to customers through invisible threads of emotions, Sabinna believes that every piece from the SABINNA collection is a stylish and timeless addition to the existing wardrobe. These objects of attachment represent something more than timely fashion, they tell and question, represent and make statements.
The origin of each SABINNA product is fully transparent. The customer gets insights into the research, the material sourcing and development and also the production details of each garment that she purchases. Each SABINNA product is 100% European sourced, from textiles, buttons and threads over to packaging, tags and care labels. The SABINNA team consists of hard-working and passionate people from all over the world with all types of different backgrounds. The mix of experiences, knowledge and expertise between all team members make the SABINNA product special and unique.
Last but not least, SABINNA wants to offer her customers the possibility to purchase fashion straight from the runway, adopting the 'See now Buy now' strategy. This gives the customers the opportunity to buy straight from Fashion Week and not have to wait up to six months for the collection to drop in-store and online.