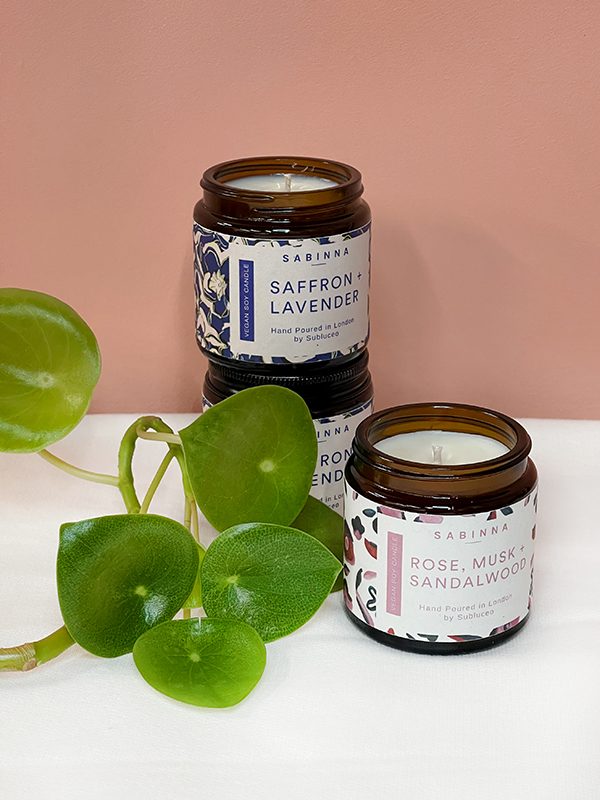 We're so excited to be launching our latest homeware product: vegan candles.
Hand-poured in London by Subluceo, each candle is made with sustainably sourced, clean-burning soy and coconut wax as well as cotton wicks. They are cruelty-free, vegan and free from plastic, paraffin and phthalates. 
Available in four scents in 120ml glass jars at £15 each and £27 for two: 'Saffron and Lavender', 'Rose, Sandalwood & Musk', 'Orange & Cinnamon' and 'Frankincense & Myrrh'. Each candle label features popular SABINNA signature prints complementing the individual scents.
Saffron and Lavender is the perfect aromatic yet floral fragrance. Delicate pink pepper mingles with fresh lavender and rich saffron coming to rest on a bed of musky woods. 
Rose, Sandalwood & Musk is a romantic, soft and opulent scent. Freshly picked rose petals flirt with creamy musks and sandalwood.
Orange & Cinnamon is the perfect scent for fall reminding you of autumnal walks through the park and hot beverages at home. Featuring citrus and cinnamon notes; the perfect blend of fruity and spicy.
Frankincense & Myrrh is a dark, mystical fragrance with notes of frankincense, tuberose, violets, myrrh and amber. A smooth festive accord, perfect for those who aren't into 'classic' Christmas scents.